Preparing for Sunday
Please take time to read through our prayer guide and join us at 9 a.m. for an hour of prayer in small groups.
In preparation for our four-week sermon series on the book of Jonah, please read through… Jonah! Isaiah Mackler will be delivering God's Word from Jonah 1 on Sunday. Lord willing, we'll hear what God has to say from a chapter each week of August.
For the kids listening to a keyword, "Jonah" is a good place to start this week.
Announcements
Sunday Pre-Service Prayer. There will be no meeting this Sunday. Instead, please join us to pray corporately at 9 AM.
Save the Date! Spend time with our missionary Jeena Lim who is here on furlough this summer. Please mark your calendars and join us for these events. Additional details will be forthcoming.
Lunch at a Local Food Court Sunday, 8/13 after church
Women's Fellowship Sunday, 8/27 at 7:00pm
Membership Class, September 10th. If you are curious about membership at CBC, don't miss the first week of our membership class with Pastor Joshua! Anyone is welcome. The class will meet at 9 a.m. in the Upper Room. (For those wishing to continue in the membership process, the class will last eight weeks.) Questions? Please contact James Lee or Adam Bakonis.
Missions Spotlight. This month we are praying for the Uyghur people. Check out the Missions Board for additional information.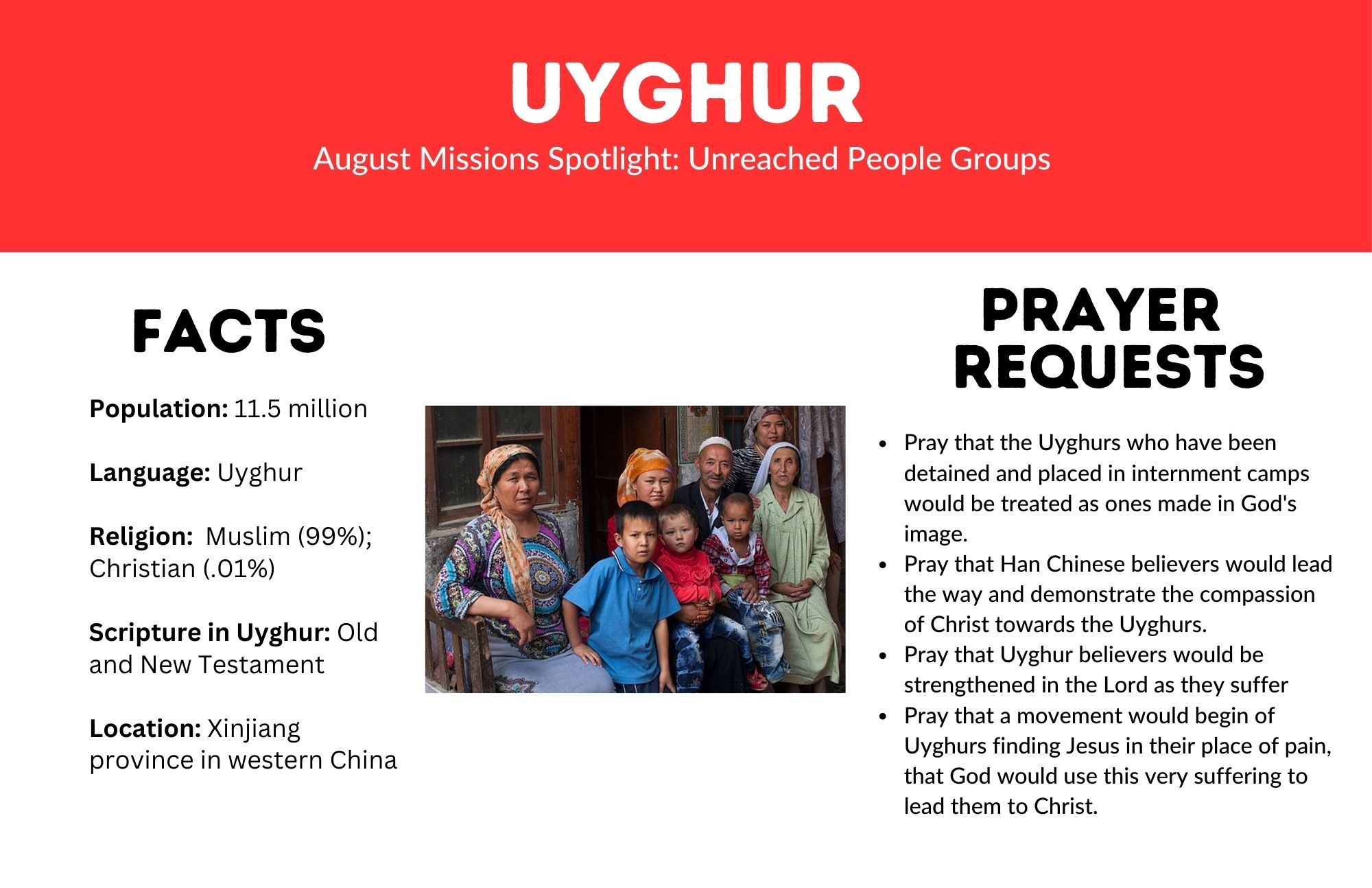 Transformation Group. These are small groups designed to help each other grow in Christ through prayer, time in God's Word, and accountability. Everyone is invited to participate. For more information, please contact Francis Orejudos.
---
Church-Wide Prayer @ 9:00 AM
This Sunday at 9 a.m. Join with God's people in praying for God's people and for the advance of God's Kingdom! Please prepare by spending a few minutes reading through the prayer guide. The highlighted portions will help you meditate at home and be ready to pray on Sunday morning. If you have a prayer request you'd like to share, please contact Isaiah Mackler to include it on the guide.
Sunday Morning Worship Service @ 10:30 AM
Order of Service

Welcome and Call to Worship

Singing

Christ the Sure and Steady Anchor
It Is Well
Your Beloved
God Is So Good

Announcements

Scripture Reading – Genesis 41:1–44

Pastoral Prayer

Sermon – Jonah 1

Communion

Singing

Christ is Mine Forevermore
Attachments